KAMADO X 24″ Midi Ceramic BBQ Bundle – Red
inc. VAT
Sale!
×
KAMADO X® Midi Rotisserie Kit OFFER
Upgrade your Kamado and transform your grill into a rotisserie-style grill!   The Kamado X Rotisserie kit comes complete with a wedge shaped ring to fit onto you Kamado and allow you to close the lid preventing any air gaps and therefore loss of heat whilst using it. Suitable for the Kamado X Midi
×
KAMADO X® Midi 2-Zone Multi Level Cooking System OFFER
Take your grilling experience with the Multi-Level Cooking Accessory Grill to the next level.  This multi level  two-zone cooking system enables cooking different dishes simultaneously at different temperatures and on different height levels! This system is a replacement for the traditional grill grate.
×
KAMADO X® 2 Piece Cast Iron Griddle & Grill Set - Midi
Create a two zone cooking set up with a cast iron half moon griddle and half moon grate and get the best of both worlds.
The Cast Iron grill is ideal for steaks, burgers, vegetables, even eggs and omelettes whilst the grate creates restaurant grade char-marks on steaks, sausages and much more.
About the Kamado X Midi…
Designed with precision and craftsmanship, the Kamado X Midi is perfect for backyard chefs and those that want to take their outdoor cooking to the next level.
Its ceramic construction, heat resistant gaskets and upper and lower air vents provide excellent heat retention and distribution, for controlled, precision cooking, ensuring a perfect cook every time.
The Kamado X is extremely versatile, with cooking options, including grilling, smoking and even baking, plus with the addition of the available accessories, you have an even greater variety of options including including rotisserie and dual zone cooking.
Included with the bundle is the Kamado X Heat Deflector and Kamado X All Weather Cover
Specification:
Grill Diameter: 20″
Weight: 120kg
Lifetime Warranty
Included:
Kamado X Cover (RRP £34.99)
Ceramic Deflector Plate (RRP £74.99)
Inkbird IBT-2X Bluetooth Thermometer (RRP £30.99)
Stainless Steel Cooking Grid
Ceramic Firebox
Iron Powder Coated trolley with wheels
Cast Iron Charcoal Plate
Dome Thermometer
Bamboo Handle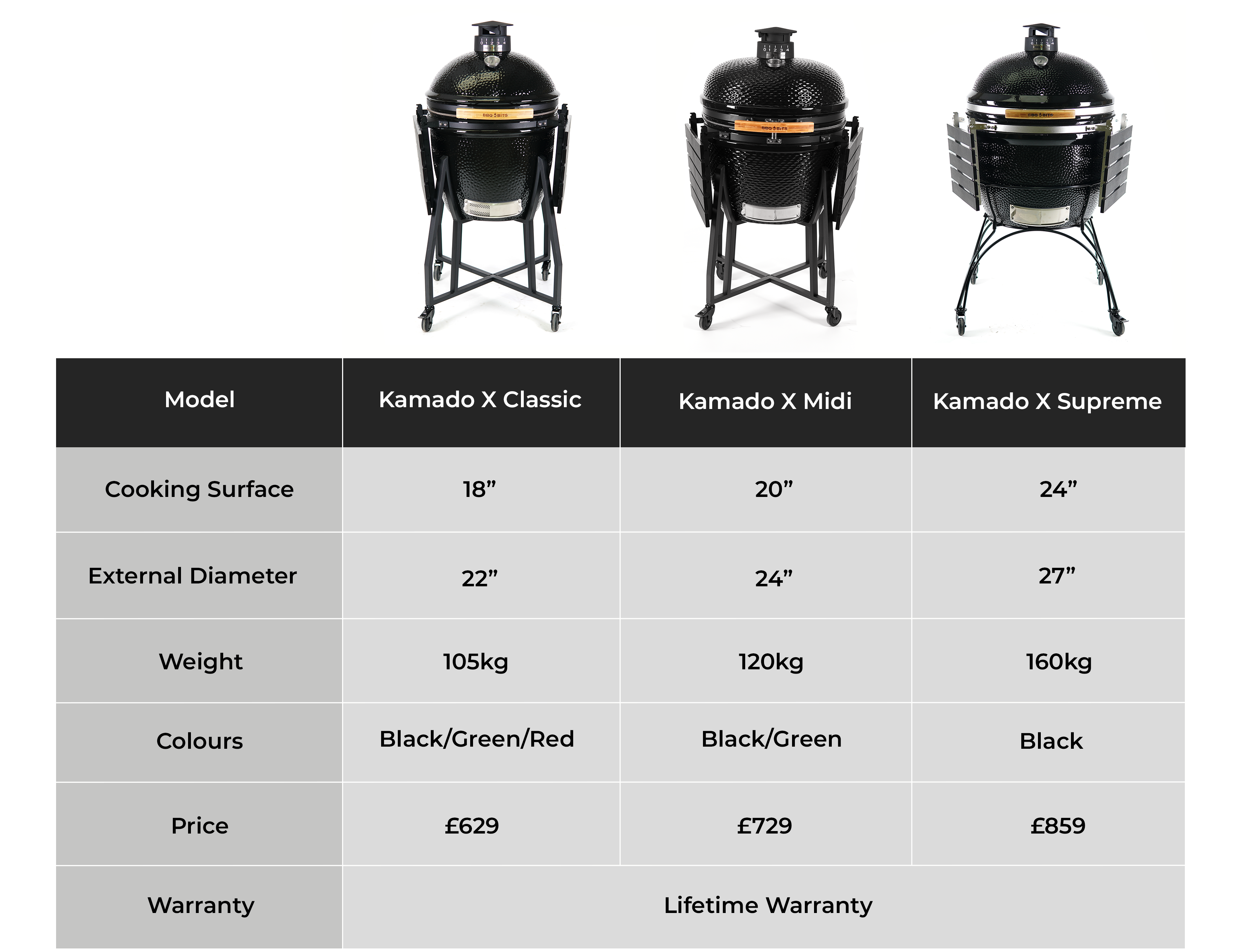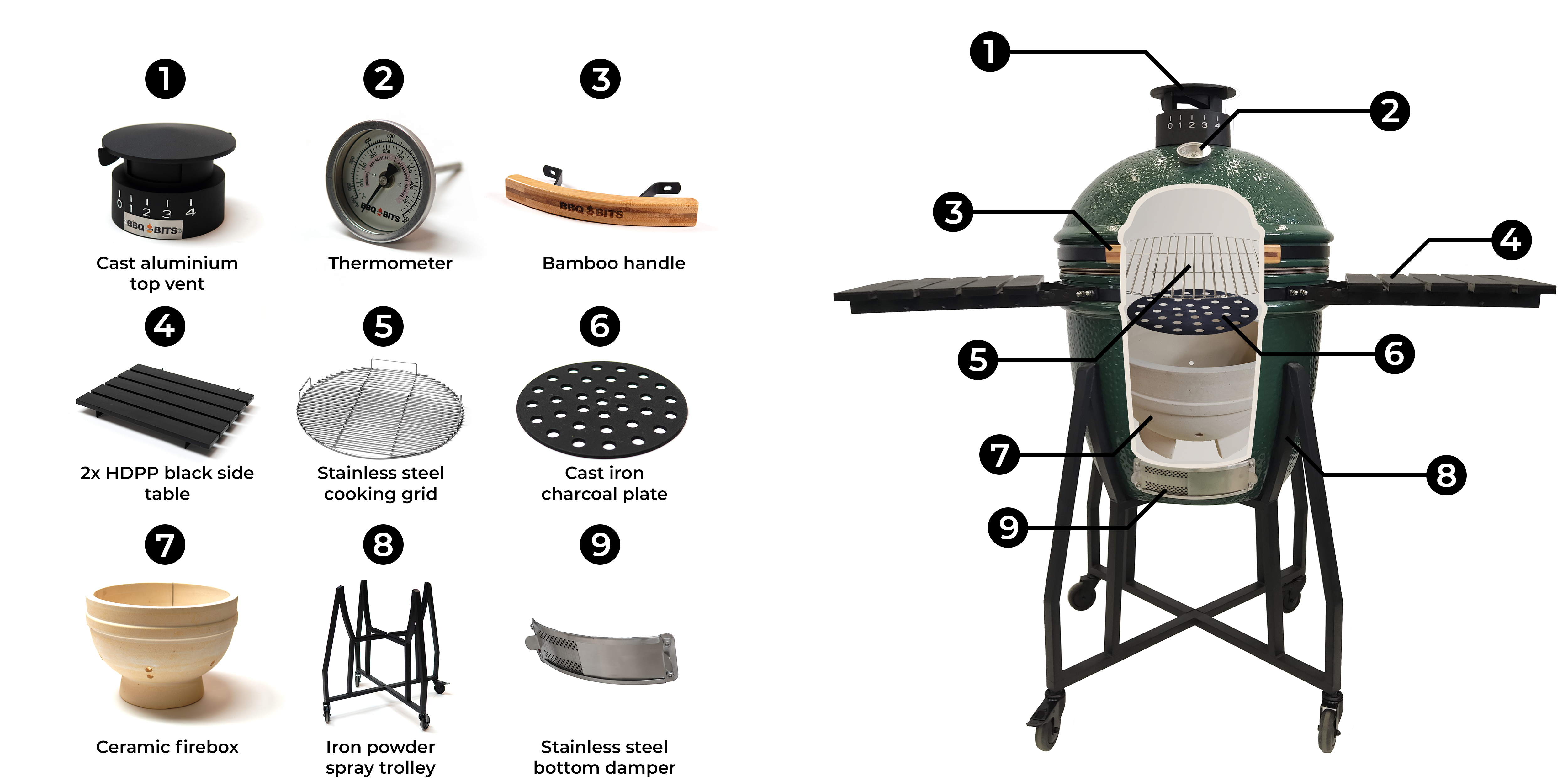 Kamado X Lifetime Warranty
CONDITIONS OF WARRANTY
The ceramic charcoal barbecue carries a limited lifetime warranty from the date of sale by the original owner only.
The warranty coverage begins on the original date of purchase and proof of date of purchase, or copy of original bill of sale, is required to validate the warranty.
CERAMIC PARTS – Limited Lifetime Warranty
METAL & CAST IRON PARTS – 2 Year Warranty
WOOD PARTS – 1 Year Warranty.
THERMOMETER – 1 Year Warranty
CASTER WHEELS 2 Year Warranty
(Full details of the warranty can be found in the Kamado X Manual).
Dimensions
124cm (h) x 61cm (d) x 140cm (w - with side tables)
A Kamado is a traditional Japanese wood or charcoal fuelled cook stove. It is not an ordinary barbecue, firstly its main construction is ceramic which is great for insulation and reflecting heat. Because of its Egg like shape this also helps to regulate airflow.
You can make the most delicious dishes on a Kamado with the versatility of barbecuing cooking methods. From baking pizzas, bread and pies to grilling or slow cooking meats and stews the Kamado is the perfect BBQ.